Global M&A Has Best January Since 2000
Under multiple stimuli, M&A activity in 2017 is off to an exceptionally strong start. In fact, January's M&A activity was the highest since 2000. Almost 4,700 individual transactions were announced.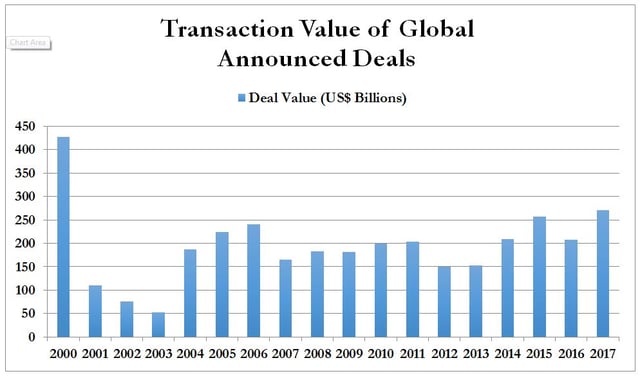 Spurred by a global positive sentiment, increased credit availability, and pent-up demand from 2016, companies sprang into action in January with the goal of getting deals closed quickly. In excess of US$270 billion in worldwide mergers and acquisitions were announced in the month of January, which was an increase of 30% from the US$207 billion announced in January of 2016.
The M&A activity of early 2017 was bolstered by the healthcare and energy sectors. The value of healthcare transactions totaled US$58 billion, and was led by Johnson & Johnson's US$29 billion acquisition of Actelion Ltd and Mars Inc.'s US$9.1 billion's acquisition of VCA Inc. The Johnson & Johnson - Actelion deal ranked as Johnson & Johnson's largest-ever acquisition and the third largest ever U.S. acquisition of a foreign company. The top energy sector M&A deal announced in January was DCP Midstream Operating, LP's US$8.86 billion acquisition of substantially all of the remaining assets of DCP Midstream LLC including assumed liabilities.
Mergers and acquisitions in the technology, media and telecommunications (TMT) sector will continue to soar in 2017 due to a number of significant factors. Companies in a wide array of industries including retail, manufacturing, and financial services will use M&A as a tool to improve efficiency in business processes, increase protection against cyber attacks, manage and analyze data better, etc. This trend will translate into an increasing value of tech companies from an M&A perspective. Valuations will also be driven up as strategic buyers and private equity firms race to compete for the best technology targets.
Versailles Group is a 30-year-old boutique investment bank that specializes in international mergers, acquisitions, and divestitures. Versailles Group's skill, flexibility, and experience have enabled it to successfully close M&A transactions for companies with revenues greater than US$2 million. Versailles Group has closed transactions in all economic environments, literally around the world.
Versailles Group provides clients with both buy-side and sell-side M&A services, and has been completing cross-border transactions since its founding in 1987.
More information on Versailles Group, Ltd. can be found at www.versaillesgroup.com.
For additional information, please contact
Founder and President - Versailles Group, Ltd.
+312-848-2991
26 February 2017