BRAPENTA
Brapenta Eletrônica Limitada is a leader in metal detection technology, checkweighing, and security technologies in Brazil. The Company sells metal detectors and checkweighers primarily for the food industry. www.brapenta.com.br.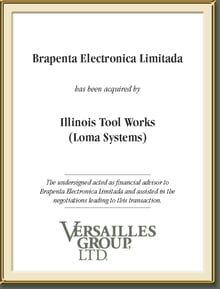 CLIENT OBJECTIVE
In order to retire, Brapenta's owner wanted to sell his business. He had tried to do that himself and couldn't achieve the results that he desired.
RESULTS
Versailles Group's discovery process uncovered Brapenta's Unique Selling Points including its important position in the Brazilian marketplace. Simultaneously, Versailles Group researched and developed an international buyer list, which included all of the important and qualified buyers. Versailles Group's selling materials and supplemental information enabled ITW, a large multinational corporation with approximately US$15 billion in revenues to understand the true value of Brapenta. As a result, Versailles Group was able to negotiate a bid that excited the seller.