SUPERMEDIA
SuperMedia Inc. provides a range of advertising solutions for small-to-medium sized businesses including online, social, mobile, print and direct mail solutions. www.supermedia.com.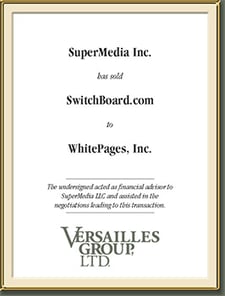 CLIENT OBJECTIVE
SuperMedia, for a number of business and strategic reasons, wanted to divest SwitchBoard.com in less than 75 days.
RESULTS
Versailles Group generated multiple offers within weeks by assembling a succinct presentation on this business. Simultaneously, Versailles Group developed an international buyer list and contacted all of the prospects. The net result was a closing in approximately 60 days. This success was enhanced by the simple fact that the value was higher than SuperMedia expected.