The most notable M&A news in Q3 was that there were more transactions in the United States/Canada region than there were in Europe. This is unusual, but we fully expect it to continue in the coming quarters as there seems to be limited progress in the resolution of the economic issues in Europe.
In Q3 the total number of M&A transactions in the United States/Canada increased by 137 to 4,372, which represented a 3% increase year-over-year. The Africa/Middle East, Asia Pacific, and Latin America/Caribbean regions all saw larger percentage increases during the same time period, 4%, 9%, and 9%, respectively. The only region that experienced a decrease in Q3 was Europe, where M&A activity dropped by 12% to 4,220.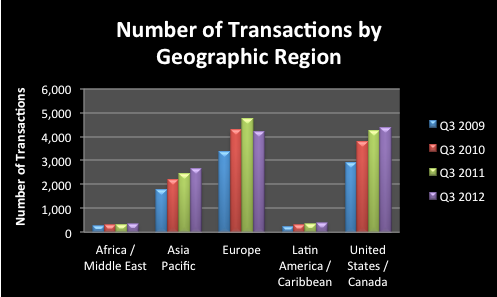 The net result of all of these changes was that the combined number of transactions worldwide fell by 1% year-over-year, from 12,146 to 11,993.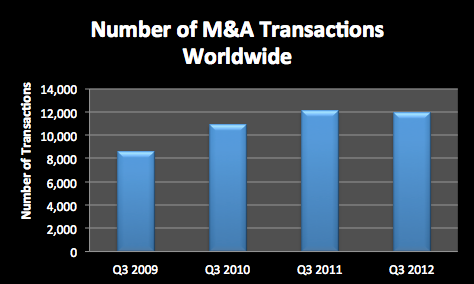 Historically, Q4 is the busiest quarter for M&A. Therefore, we are expecting a strong fourth quarter in most regions.