Year-to-date, M&A activity has been robust, as reflected in the chart below. Despite a modest start to the year, the value of M&A transactions is up, over the same time period last year, in all regions except for Asia Pacific.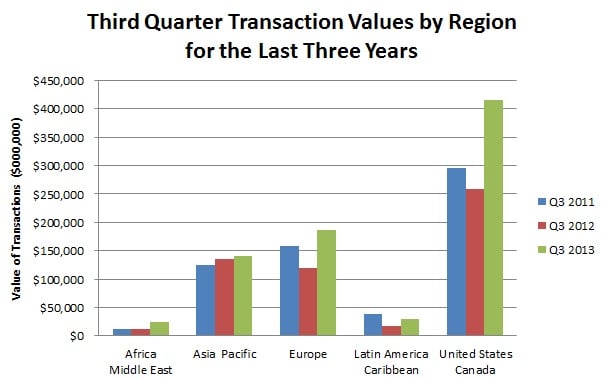 Low interest rates, willing lenders, buyers with large cash balances, and other strong fundamentals are contributing to M&A activity around the world. And, it appears that deal multiples are increasing due to competition between private equity firms and strategic buyers. One of the strategies of both of these types of buyers is to enhance shareholders' wealth via the acquisition of companies.
There are two questions that every business owner or CEO should ask, at least annually: when should we acquire a company and when should we sell either all or part of the company. The answer is not always straightforward, but the question is worthy of significant attention. With over 30 years of M&A experience, I have personally seen many businesses miss valuable opportunities by hesitating to consider a transaction.